We went to go on a second hiking trip. This trip was better marked than the last one, but still seemed like it could use some finding aids online. We found this trail at the
Upper Valley Land Trust trails page
. We were looking for something not at all strenuous that would get us outside for part of the day and this trail fit the bill. It's about a mile long, pretty flat, and goes through some nice woods and down by the Broad Brook.
Here's the trail page on the UVLT site
.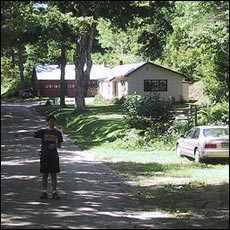 To get there, cross over the bridge onto River Road from the center of Sharon. You'll go about a mile and a half and you'll see the Broad Brook cemetary on your right. Turn left here, under the railroad bridge onto Broad Brook Road. Go 0.8 miles and the road will fork with Harlow Road going up to the right, stay on Harlow Road. After 0.8 miles you'll see a pull-off that has a teeny sign saying "trailhead" or something similar. The house right after the space is shown in this picture. Park here and the trail is across the road.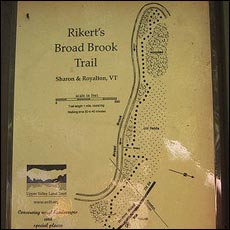 You'll see a sign and some rock steps going down. After you cross over a small foot bridge you are walking through tall stands of ferns and into the trees. Giant vines hang down from the trees in ways that just make you want to make Tarzan calls. There are a few rusty car carcasses in the woods, but mostly it's just trees, mushrooms, moss and ferns ferns ferns.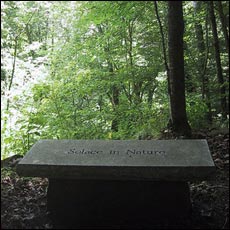 Hugh Rikert served in World War II in the Aleutian Islands and in France, Italy, and Norway. He purchased the 22 acre Sharon/South Royalton property in 1948, tried his hand at farming and decided to manage the forests on his own land. He wanted to dedicate his land as "a memorial forest to veterans". To that end there is a bench facing towards the river engraved
Solace in Nature
as well as a small plaque on a nearby rock and an American Flag. It's very lovely and very peaceful.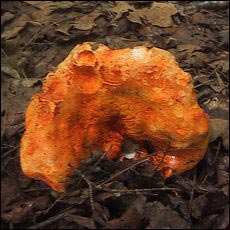 The woods were expectedly buggy but other than that we were completely undisturbed. We saw many different sorts of plant, animal and fungal life that we don't normally see. The trees that are right by the river are a prime birdwatching spot, so bring your binoculars if you are so inclined. We saw two kinds of woodpeckers, a host of chickadees and nuthatches and some teeny speckled bird that I still can't identify.
last updated 07aug05