We went to go on a hiking trip and found that finding a hiking trail online is not as easy as you might think. This page is for other people who may want to hike to Kent's Ledge in
South Royalton
and, like us, don't know exactly how to start. For what it's worth, we got enough information to get started by calling the
Vermont Law School
library and talking to a helpful student who was working the desk.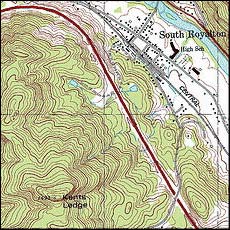 You can click this image if you want a large annotated version of the map, but this is just to show how close the ledge is to the village of South Royalton Vermont. To get started, park in town. Walk towards the Crossroads Bar and Grill which is on Rainbow Street technically, but actually faces the town Common. It's right by the post office and across the street from the one row of businesses in South Royalton. Go behind the bar and walk towards your right up Rainbow Street. This street ends and there is a dirt road that goes up to the left. Walk up this road.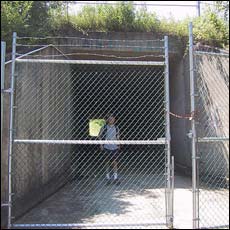 The dirt road goes by a few houses and pretty quickly terminates in a locked gate with some "no tresspassing" signs on it. I think these are because there is a water source and some gear up there and people used to go four wheeling. No one seems to pay the signs any mind. Walk around the gate. You'll keep going up hill and the path takes a right hand turn and passes some water management buildings. Then you'll see another gate that blocks off the tunnel underneath I-89 but it's easy to go through. Walk under the highway.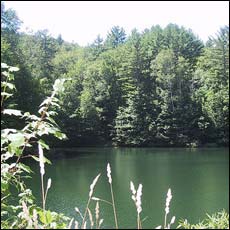 You'll walk a little ways and come to a big pond. At this point the trail splits and one trail goes ahead to the right and one goes off to the left. The trail to the left that follows the power lines goes to Kent's Ledge. The trail begins to go more sharply uphill and is now completely in the forest. This is a good time for bug spray and maybe some fortifying gorp. The trail is mostly just dirt, with some rocky areas. It looks like parts of it become a big river during the rainy season but when we went in late July it was completely dry.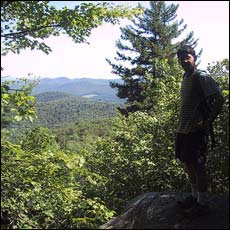 It's a little over an hour to the top if you're slow like me. It's all fairly steady climbing with a few steep parts, but nothing that requires rock scrambling or gear. The view from the top may be more knockout in the winter or before the trees really leaf up in the spring, but it was still pretty excellent.
last updated 24jul05