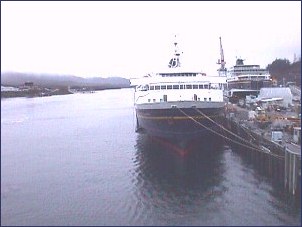 The boat we were on was the Kennicott, a relatively new ferry in the Alaska Marine Highway fleet. The AMH System was designed as a sort of additional transportation option to people who live on the islands and on the Alaskan Coast. Many of the places we went to are only accessible by water or air. As such, it's a pretty no-frills way to see Alaska. Even so, people looked at us a bit funny when they asked us where we were going and we just said "Oh, up and back" because I guess it's not the kind of thing anyone does for fun, especially in December. And, for the locals who view this as necessary tranportation, taking a pleasure cruise on the ferry would be like spending a weekend mucking about on Metro -- not many people's idea of a good time.

My sister and I thought it would be a bang up idea, however. We were anxious to get away from the states for the holidays and sitting around reading and looking at lovely scenery out the window seemed like a great idea. Your ferry tickets basically entitle you to a place on the boat. Once you get on the boat, you have a few options: full-service cabins [bathroom & sheets], self-service cabins [bathrooms down the hall, no sheets] or no cabin at all. You are allowed to sleep on the boat wherever you can find room and the top level of the boat -- called the Solarium -- is partially outside and has places to pitch tents. You see folks all over the place with sleeping bags and great piles of luggage. Last time I took the ferry we slept on couches in the front day room, this time we decided we'd get a room. There are four pay phones on the ferry and they are all broken. In fact, duing our trip one of the big cel towers was down so it seemed like there was no way you could make a phone call at all, even from shore.

The ferry also has a gift shop, an expensive and uninviting bar, a cafeteria that serves three meals a day, a children's room with one plastic slide and dire warnings against camping there, various sitting rooms with many front-facing chairs seemingly designed to hinder any attempt to sleep in them, and a small movie theater that shows videos on a haphazard schedule. The ferry can hold almost 750 people total, but it doesn't get anywhere near that in December. When it's been the fullest we've had 150 folks on board and at its emptiest it's had 29, which is less than the number of active crew members.
the boat
the trip
xmas
misc
xtra pics
Movies Shown
Misty*
Chicken Run*
Wizard of Oz*
My Dog Skip
The Mummy*
Miracle on 34th St.
Grinch
Ripple Rock*
The Santa Clause
Joseph, King of Dreams
Xmas Carol
Sara, Plain & Tall
Mouse Hunt
World is Not Enough
Father of the Bride
Men in Black*
Indiana Jones & Last Crusade*
Raiders of the Lost Ark
Horton Hears a Who
White Xmas
Inspector Gadget*
Independence Day
Back to the Future
Mask of Zorro
First Knight
Gideon*
Jurassic Park
Wild Wild West
* means I watched all or part of it