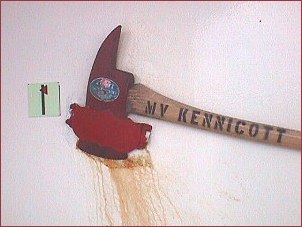 One of the main reasons for taking this trip when we did was to get away from holiday madness stateside and do some sort of alterna-christmas someplace else. My sister and I don't really celebrate Christmas but, as I've said before, it's like saying you don't celebrate the Superbowl -- it's coming and taking over the day whether you like it or not, you'd best make plans. Generally, I eat Chinese food and watch movies all day. The past few years, I've gotten returnable presents from relatives that have subsidized movies and food. Last year, I spent the day solo in Vermont and ate dinner at the local church and helped fix the computer at the homeless shelter. My sister and I wanted to go someplace sunny and warm and somehow managed to wind up on a ferry heading north into snow and sub-zero temperatures.

The ferry crew does not even pretend that it is the "holiday" season. The boat is outfitted with santas and presents and a hapless Christmas tree which is partially decorated and tied down in the lobby area next to boxes of ornaments that never got fully unpacked. Other than that, the holiday revelry is kept in check. No santa hats on the purser, no carols piped over the PA -- well they tried that once but it interfered with the movie so they knocked it off -- and aside from the "happy holidays" signoff to all the day's announcements, no cloying behavior from either crew or passengers. The day's movies did suck more than usual in a holiday direction, but we weren't depending on them for entertainment anyhow.

The one exception to all of this was the Christmas Eve "feast." Generally dinner in the cafeteria is a low key a la carte affair. There's two or three different entrees offered for dinner, or you can have a cheeseburger or other item from the standard menu. We had brought a few coolers and a lot of miscellaneous food so we were mostly only eating dinners in the cafeteria and eating everything else out of our travel mugs using purloined silverware. A few travel tips: as on cross-country train trips, hot water is usually free, and cafeteria staff could care less if you use their microwaves or toasters, or grab an extra sugar packet or two. So, back to dinner. We knew something was up when the dinner menu had three big ticket items. Our choices were: turkey dinner with all the fixings, prime rib, or salmon steak -- screw you vegetarians! We opted for the turkey and got your standard fare: turkey, stuffing, potatoes, rolls, gravy ... and a beef teriyaki stick and an eggroll, for some reason. The eggroll looked tasty but seemed to be stuffed with some sort of fish. No clue where the teriyaki had come from, though many of the kitchen staff seemed to be of Asian descent and spoke a language I didn't recognize.

Dessert was all-you-can-eat [a big deal in a cafeteria where every item comes with its own price tag] and was pretty tasty. The one less savory part was the baby Jesus in a manger that graced the center of the table. He was on what was supposed to be on a bed of hay, but it looked suspiciously like a bed of lettuce and the baby looked not unlike a small ham.

We had a white Christmas in Skagway Alaska. The boat docked for 90 minutes and we ran off the boat, frolicked in the snow, noticed that town was closed up tight [it was 6 pm], tried to call our Mom [fast busy for all outgoing calls from Skagway, as person after person in line for the phone had to discover for themselves] and got back on the boat. A very nice day.
the boat
the trip
xmas
misc
xtra pics
Provisions
moon pies
case of soda
bagels
peanut butter
apples
clementines
bananas
misc cup-o-soups
box-o-soups
cookies
juice
graham crackers
granola bars
crackers
oatmeal
rice cakes
trail mix
chai
cocoa
salsa
chips
candy
cough drops