for now, this replace the "about me" page, previous pages are at these links. Yes I know things dropped off a bit after 2003, it's all my fault.
2003
,
2001
,
2000
,
1999
,
1998
,
1997
Everybody's Interesting
By Alex Hanson
Valley News Staff Writer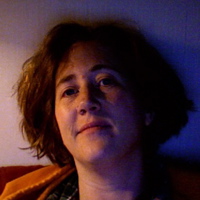 Ask Jessamyn West about some of the things she's done over the past decade and her immediate answer is often something to the effect of "I don't know."
But if someone asks her for a precise date, she knows where to find it: on her blog.
West started her blog, or Web log, in
January 1997
, primarily as a way to keep her mother informed about what she was up to. Since then she's chronicled her life on the Internet for all to read and branched out to start a widely read blog for her fellow librarians and to work for
MetaFilter
, a community blog.
"Now the big deal is that everybody's got a blog," West said. Even
her mother
has one now.
But a decade ago, blogging was out on the fringes, practiced only by the most computer-savvy. Now blogging is so easy, West sounds faintly embarrassed by it.
One blogging site,
Vox
, makes things so easy, West said, that "it's like stupid-simple blogging.... For people like me, I'm like, Oh my god this is like Fisher Price bullshit."
That's a pretty good example of how West, 38, talks, mixing references to pop and commercial culture with big hand gestures and the occasional teenage inflection and seasoning it with a generous pinch of salt. During a recent interview in a cafe down the street from where she lives in Bethel, West's colorful language, pierced nose and urgent speaking voice drew a few glances from the late-morning crowd.
From her blog we will know her. She got her current haircut, a chin-length bob, last October after, "
My barrette set off the metal detector
at the airport and it was the last straw. I walked into the barbershop in Portland and said, "Do you cut women's hair?' " she wrote. (Last October was the same month in which she described how she accidentally
locked herself in her father's garage
-- an uproariously funny piece of writing -- and wrote about her mother getting a clean bill of health after treatment for lung cancer.)
Regular readers of www.jessamyn.com have been able to follow all of West's changes of hairstyle, including the days when she had dreadlocks. Her current fascination is with swimming, her first regular fitness program in years. Her plan for 2007 is a virtual swim of the 120-mile length of Lake Champlain. As of Jan. 11, her last post that mentioned swimming, she had 114 miles left to go.
West's personal blog isn't unusual as blogs go. What she posts to it reveals her character and a few plot points in her story, but not her innermost secrets. "There's a lot that I don't talk about on my blog," she said, adding that she also posts a "friends only" blog on Live Journal, another blog site. [ed note: this isn't true]
But West's marriage ended just a few months after she started her blog and
she wrote an entry about it
. Last year,
she wrote about her breakup with her boyfriend
, complete with links to his blog, but appears to have taken the posts down. [ed note: broken link now fixed]
The day before she was interviewed by the Valley News (a report of which appeared on her site long before this story was written) she talked to USA Today about something she wrote last year about "
breaking up in the age of social software
" on her other blog, librarian.net. ("I started this relationship before the dawn of most social software and the ubiquitous presence of "network" in my life, and I'm ending it afterwards," she wrote.)
The press attention is a reminder that for most people blogging is still a frontier, a notion West agrees with. The 2004 presidential election helped bring blogging to prominence, and West said it's now just a technology like any other. But its maturity means that bloggers can go where their imaginations will take them.
"Blogs, they're what old people do now," she said. E-mail is the same way. The youngest generation of Internet users don't bother with blogs or e-mail, preferring social sites such as MySpace and instant messaging to stay in touch.
Although West uses those newer forms, blogging has become something big for her.
Librarian.net
, which she started in 1999, draws 3,000 to 4,000 unique viewers every day, which makes West an influential voice in her field.
For the last couple of years she's been
travelling to library conferences to talk to colleagues
about computing and social responsibility.
And she's getting paid to blog. She helps manage MetaFilter, a community blog where posts span a vast terrain of subject matter.
"It's this little dream world and then I walk out my door and I'm in Bethel," West said.
West's work as a librarian makes her a bridge between that digital dream world and Central Vermont. She is a consulting librarian with several public libraries in Orange County, helping them primarily with technology. She also conducts drop-in hours for adults at the
Randolph Technical Career Center's
computer lab, a job she first started as an AmeriCorps volunteer.
To put it gently, Orange County lags behind when it comes to computer and Internet use. "I'm teaching the same classes here I was teaching in Seattle in 1994," West said. She can go from answering questions for the Internet savvy at the Ask MetaFilter page to helping the Randolph Garden Club make mailing labels. If she talks about her blogs in the latter environment, "I might as well be talking about an invisible castle," she said.
An interest in technology came naturally to West. Her father is Tom West, the figure at the center of Tracy Kidder's Pulitzer Prize-winning 1981 book The Soul of a New Machine. Kidder's book traced the development of a new computer at Data General, the company Tom West worked for in Massachusetts.
It was her father who bought her the domain name jessamyn.com for her birthday in 1997. Her parents, now divorced, also named her Jessamyn West, a name she shares with
the American novelist who lived from 1902 to 1984
. (Her parents claim coincidence, but West doesn't buy it.) The two Jessamyns were pen pals when the blogger was in fifth grade and the writer would have been in her late '70s.
"I still have those letters. It's so cool," West said. She also gets instant messages from a small pack of girls named Jessamyn, making her another bridge between technologies and generations.
She was living in Romania, where her husband had a job teaching political science, when she first discovered the potential of the Internet.
A graduate of Hampshire College in Amherst, MA, West had already started work toward her master's in librarianship at the University of Washington. In the Transylvanian city of Cluj-Napoca, West found herself running a tiny library set up by the Freedom Forum, a nonprofit journalism center.
"The first time I ever saw the Internet with pictures was in Romania," West said, adding that it must have been sometime in 1995. The Internet was created in the 1960s and early '70s as a way for the American military to share information between computers. Information meant text.
In October 1995, a little-known group called the Federal Networking Council defined the term "internet" for the first time, paving the way for easier use by the public. "I remember seeing it and thinking, oh my god, this is going to be huge," West said.
She finished her library degree after coming back to the United States, and started working in a long series of jobs at Internet companies and at libraries.
West is part of a group of young, technologically sophisticated librarians who exchange information about their work through blog postings, and, more conventionally, at library conferences. They have taken it upon themselves to dream about "Library 2.0," what libraries will look like and how libraries will function now that information is both easier to come by and harder to sift.
She moved to Vermont part time at first in 1997 after she bought
a house in Topsham
from a friend. She lived there for a while, but it lacked Internet access. "I was like, this is really, really isolating," she said. She didn't move to Vermont full time until her then-boyfriend enrolled at Vermont Law School in 2003.
She's settled in now, living rent-free in a charming, chilly Victorian while its 76-year-old owner is in the Peace Corps, swimming most mornings at the pool at Vermont Technical College, traveling to small libraries and staying up late to write her various blog postings.
West still exchanges letters with friends -- in one blog post from last year she said she
owns a typewriter
-- even though most of her communication is immediate and electronic. What started as a way to keep her mother in the loop about her daily doings is now a sort of history of the new medium.
"I think everybody's interesting," she said. "I want everybody to have a little Web page where they write about what interests them."
[note: this article was originally online at vnews.com and now no longer is. I have archived it here.]